This beautiful Japanese van has many qualities. It is no mystery to anyone that it shares a platform with the Nissan Urvan. However, as of the 2020 model, a 2.8-liter four-cylinder turbodiesel is equipped as the input engine. The gearbox will be a 6-speed manual up front.
The load capacity is almost 1,200 kg and in terms of volume, it is around 9.2 cubic meters. The configuration chosen by the brand with the interlocking rings is the long chassis and high roof. So you get more transport capacity for the money invested in the unit.
There is a large market for the transportation of personnel in our country. For this reason, Toyota also markets the version with seats with capacity for up to 12 passengers, including the driver. This version has air conditioning, cup holders for each seat and a sound system with up to 6 speakers to cover the entire interior space.
As expected, the Hiace faces tremendous competition because many world-leading brands also offer passenger and panel-type units. However, the quality and respect that the Japanese manufacturer inspires is a very great advantage over other units on the market.
The Hiace is ideal for industry and commerce and therefore it is offered for cash, credit, pure and financial leasing. A discount is also offered on fleet operations. It is also widely used on public transport routes. 
Exterior
•    Antenna on awning
•    Black front and rear fenders
•    Black side mirrors, folding and with manual adjustment
•    Halogen headlights with auto on / off
•    Daytime running lights (DRL) integrated in headlights
•    Black handles
•    Silver front grill
•    Hatch-type rear door
Interior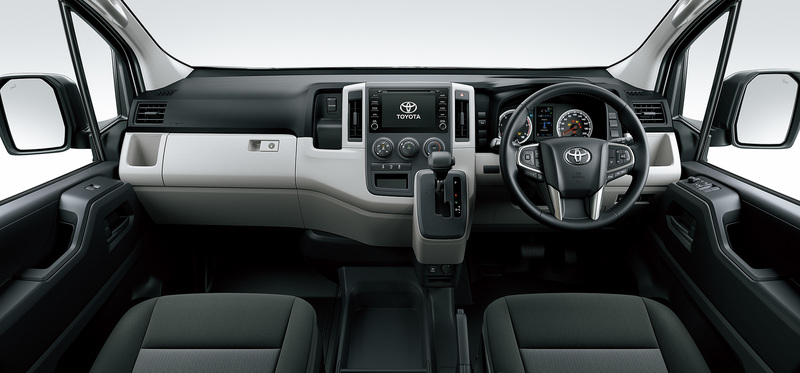 •    Bucket-type driver's seat with 6-way manual adjustment
•    4-way manual bucket passenger seat
•    Three open compartments on board
•    Two closed compartments on board
•    Front 12V connectors
•    Day / night rear view mirror
•    Courtesy interior lighting
•    Access lights on doors
•    Dome lights
•    4 cup holders
•    AM / FM audio system with CD player, AUX input, USB and 2 speakers
•    Bluetooth connectivity system
•    One-touch power opener front windows
Motor
The Toyota model has two options as far as engine is concerned. The first one is available for the Super Long Panel version that equips a 2.8-liter four-cylinder turbodiesel engine that generates 174 horsepower and 310 lb-ft of torque. The Super Long Windows and 12 Passenger versions are equipped with a 3.5-liter V6 engine that generates 277 horsepower and 259 pound-feet of torque. For all versions the gearbox is a 6-speed manual.
If you enjoyed this post and want to learn more about air conditioner maintenance please subscribe to omanicar.com to get the latest news about the car's world, offers and more!